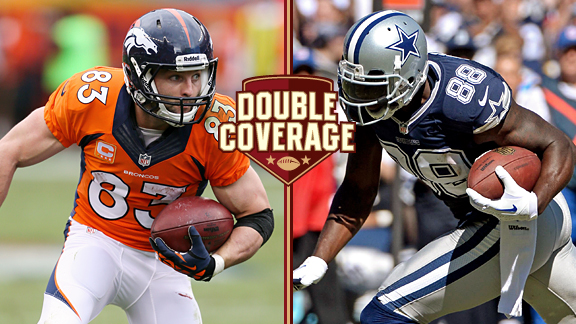 Denver has been steamrolling all of its opponents up to this point in the young season. Through a quarter of the campaign, the Broncos have outscored the opposition by 88 points, the largest margin in the NFL. Peyton Manning has been the main reason for such utter domination, throwing 16 touchdowns against zero interceptions.
Manning has a bevy of options, the most prolific being Demaryius Thomas, who already has 393 yards and four scores. Eric Decker and Wes Welker have 340 and 266 receiving yards respectively, with Welker contributing a team-high six touchdowns.
On defense, Denver is not the same type of incredible. In fact, the defense is a rather ordinary unit. Against the pass, the Broncos rank 22nd in passing yards per attempt against at 7.7 and 30th in passing yards against overall. Versus the run, John Fox's group is stout, giving up the fewest rushing yards (74.0) of any team per game.
Dallas is one of the hardest teams to figure out in the NFL. On one hand, the Cowboys are one of the more talented squads going. Between Tony Romo, Miles Austin, Jason Witten, Dez Bryant, DeMarco Murray and Tyron Smith, the offense seems like it should be a force. Yet, they rank 19th on offense and a surprisingly bad 21st in passing yardage.
On defense, the Cowboys sport Sean Lee, Brandon Carr, Jay Ratliff and DeMarcus Ware, among others. Still, the unit comes in at 20th in yards against and 27th against the pass, allowing 304.5 yards per game. All of this would make you believe the coaching is the issue, and that very well could be.
Jason Garrett has seemingly been on the hot seat since Day 1, and may still be throughout 2013. If the Cowboys fail to make the playoffs in such a weak division, it seems Garrett could be on the chopping block after what would be a third year of missing the playoffs under his watch. Without question, the pressure is on the former backup quarterback.