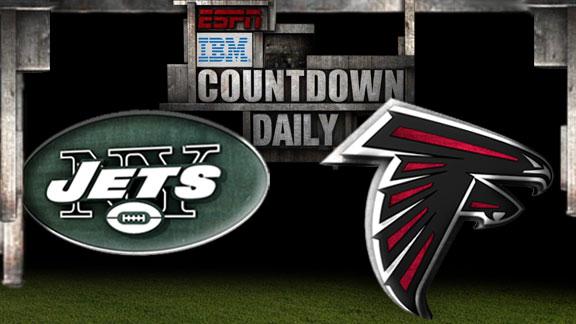 Wide receiver Julio Jones has been a one-man wrecking crew for the Atlanta Falcons this year, and now cornerback Antonio Cromartie might be the one man trying to stop him on Monday Night Football.
Atlanta will host the Jets in the prime-time Week 5 matchup, and after watching film of Cromartie single-cover Calvin Johnson in the preseason, Jones said he's prepared for some man-to-man battles with the veteran cornerback. According to ESPN.com's Vaughn McClure, Jones is ready for Cromartie to follow him around the field:
"He's a very athletic, long, rangy corner," Jones said. "And he's got great speed. ... But when you've got two great receivers on one team, it's not telling who they're going to match: me or Roddy."
Jones is of course referring to his teammate Roddy White, who poses a second serious threat in Atlanta's offense. It's a situation that New York will have to attack carefully.
Jones, 6'3" and 220 pounds, has size and speed, but so does the 6'2", 210-pound Cromartie. In years past, Cromartie and his former Jets teammate Darrelle Revis could split the responsibilities of covering two top-flight wideouts like Jones and White. But with Revis gone to Tampa Bay, New York coach Rex Ryan even admitted it will be tough to contain Jones, via Manish Mehta of the New York Daily News.
Whether he's matched up against Jones or White, Cromartie sounds like he knows how he's going to approach Monday's contest, per McClure.